Are you in need of a drug test? In our daily lives, it is common for many companies to need our drug test results, while it costs much time for a lab to get you the result, there are actually many panel drug tests in the market, while you are not sure which one you need. and this is the time you need an at-home 7 panel drug test, while what drugs are on a 7-panel drug test? You might also wonder does a 7-panel drug test test for alcohol? In this article, we will have a close learning about the question what does a 7 panel drug test test for.

What Is 7-panel Drug Test?

Before we know the question, let's learn what is 7 panel drug test first. A 7-panel drug test is a commonly utilized screening method employed by companies or individuals who have concerns about an employee potentially misusing prescription drugs. This test is particularly prevalent in industries requiring high levels of alertness or the operation of heavy machinery, such as transportation and those overseen by the Department of Transportation (DOT). Its primary purpose is to detect the presence of prescription drugs that, while legal, could impair an individual's ability to operate machinery effectively or cause fatigue-inducing side effects, especially when used inappropriately.
The standard 7-panel test typically targets seven specific substances, including marijuana, cocaine, opiates, PCP (phencyclidine), amphetamines, benzodiazepines, and barbiturates, aiming to identify any traces of these substances in an individual's system.

What Do 7-panel Drug Tests Test for?

The 7-Panel Urine Drug Test is designed to detect the presence of common substances abused by individuals in a urine sample. This testing method is capable of identifying drug use from several days prior, though the specific detection window varies based on factors such as an individual's metabolism, the quantity consumed, and the duration of use. The test screens for substances including:
Amphetamines (including Methamphetamine)
Barbiturates
Benzodiazepines
Cannabinoids
Cocaine
Opiates (Codeine, Morphine)
Phencyclidine (PCP)
Additionally, the test includes specimen validity testing to ensure the integrity of the sample, assessing factors like Creatinine levels, pH, and the presence of oxidizing adulterants, aiming to provide a comprehensive assessment of the individual's drug usage history.

Does a 7-panel Drug Test for Alcohol

Does a 7-panel test for alcohol? The answer is No. The 7-panel drug test does not typically screen for alcohol consumption. This testing method focuses on detecting specific illicit substances or prescription drugs, as outlined in its panel composition. Alcohol, although commonly abused and potentially impairing, is not included in the standard 7-panel test. The reason lies in the distinct way alcohol is metabolized and detected in the body compared to other substances. Alcohol is not typically part of standard urine-based drug tests; instead, it requires separate and more specific tests like breathalyzer tests or blood alcohol tests due to its rapid metabolism and shorter detection window in urine. Therefore, while the 7-panel drug test targets various drugs commonly abused, it does not encompass alcohol detection due to the necessity for specialized testing methods to accurately detect its presence.

Choose a 7-panel Drug Test in High Accuracy

Choosing a 7-panel drug test kit can be advantageous due to its comprehensive nature and accuracy in detecting a range of commonly abused substances. The inclusion of multiple drug categories, as specified in the 7-panel test, enhances its capability to identify various drugs in a urine sample, providing a more detailed overview of an individual's substance use.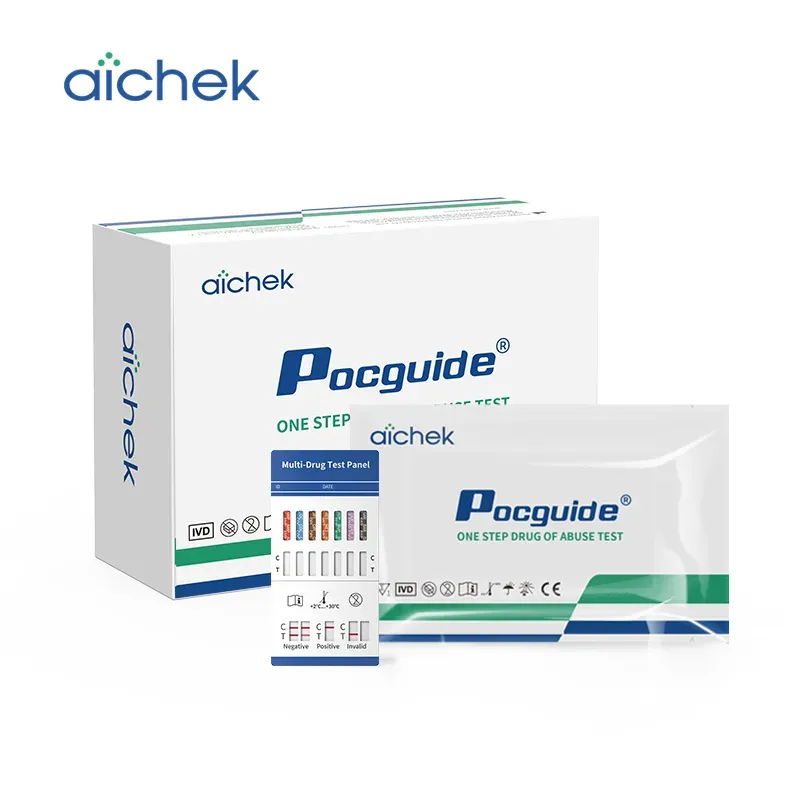 Moreover, this test's accuracy in detecting drugs present in urine is significant, offering a reliable screening method for substances that can remain detectable for an extended period, approximately up to 30 days. This prolonged detection window allows for the identification of drug use within a relatively broad timeframe, enabling a more comprehensive assessment of an individual's drug history. At AICHEK rapid diagnostic test, our 7-panel drug test proves to be a valuable tool for monitoring and evaluating substance use over an extended period, which is beneficial in various professional, medical, or legal contexts.

Conclusion

Now we know the question "What drugs are on a 7-panel drug test", it is essential for individuals and companies seeking comprehensive substance abuse screening. While this test provides a thorough analysis of various commonly abused substances like marijuana, cocaine, opiates, and others, it notably does not test for alcohol. Instead, it focuses on detecting specific drugs within a urine sample, offering accuracy and a prolonged detection window of up to 30 days. The AICHEK 7-panel urine drug test emerges as a recommended choice for its precision and ability to provide detailed insights into an individual's substance use history, proving invaluable in professional, medical, and legal scenarios where accurate and thorough drug screening is required.